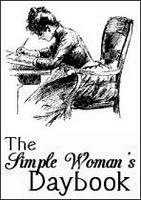 Outside my window...
lots and lots of vegetables.
I am thinking...
of how to get rid of the ants eating up my maters.
I am thankful for...
the fruit of the earth.
I am remembering...
the first slip I made on my own.
I am hoping...
to get a lot of sewing done before the baby comes.
I am creating...
a butter yellow crepe maternity skirt, almost done.
On my mind...
what gender the baby is.
Noticing that...
I still have a ton of stuff to do.
From the kitchen...
dad's home made pizza.
One of my favorite things...
pumpkin butter.
What I am reading...
blogs.
Picture for thought I am sharing...
First fruits of my garden!