It has been so hot here! We got the kids a mini swimming pool and they love it. Not so fun though all this mowing in this heat!
Had a wonderful field trip last week at Botanical Gardens. They fed us a nice healthy lunch from Wild Thyme! And it was so yummy!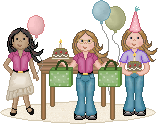 Saturday we had a summer party for the kids in our congregation. Lela and all the kids had a great time. We BBQ'd and picniced at the park. And they played and played and played. I invited all the kids from our current congregation and a few from our old congregation as well. It turned out really nice. I'm hoping to come up with at least 2 more before summer is over.
Sunday meeting was awesome. We had a guest speaker, I went to pioneer school with his little brother. I always tells his little brothers jokes from pioneer school to this day. He was such a funny brother. Found out he and his wife now live in NY! Who would of guessed? lol But, boy it sure doesn't seem like that should be 20 years ago! ARG! Time is flying by waaaaay too fast!
Also I was finally able to start using Mama Pads, I love them! I am never going back to anything else. Placed another order today!
Now for the bad news. I have a infected tooth that is driving me insane! And we've had a roof leak for at least three months. I told the land lord about it from the get go...and he came and looked and has done nothing, not even a tarp. So came home Thursday to the ceiling caved in! ARG! Sheet rock, mold, dirt, etc every where! Vince's hours were also cut by half at work. So I just don't know. Hoping though that Vince can get a different job. Cause this one is killing him. He's lost 50 lbs and he wasn't very big to begin with. My little brothers are asking if he is ok, he's so thin. We really want to buy a home though. Ironically the one next door is up for sale and we really really really like it. So hoping maybe we can fanagle on over there! We've went to two of it's open houses and really like it. The first open house was closed early due to tornadoes we were having. and the poor woman had to run to shelter. The second one they said hardly any one is looking at it. So I'm hoping hoping hoping we can buy it. It's such a nice home.