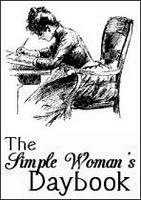 Outside my window...
thunder lightening and hail.
I am thinking...
how glad I am that the house is clean.
I am thankful for...
having a healthy pregnancy thus far.
I am remembering...
all my family members who live in the Joplin area and hoping they are safe.
I am hoping...
we find a good obgyn soon.
I am creating...
a beautiful family.
On my mind...
hoping the inlaws visit goes well.
Noticing that...
the days are getting longer, and summer is almost upon us.
From the kitchen...
burgers.
One of my favorite things...
fresh veggies from the garden, can't wait till mine are ripe!
What I am reading...
Mary Jane's Farm Magazine.
Picture for thought I am sharing...
Lela reading one of her favorite books.