Last night we went to Walmart to buy a new mug, cause Belle accidentally broke my old one. The location we went to didn't have the one I wanted. I am very picky on texture, feel and weight of my cups, and sliverware, dishes, etc. So I have to have one that is just right. They only had one other that I may consider but it was kind of ugly, the other one was pretty and "just right". haha I will have to go to the other location where I think it is and buy a few! haha
Since they didn't have the mug I wanted. I ended up going to look for Vince, on the way I picked up a hand towel in the new design we have been liking by Home and Garden. Their towels, and wash cloths are a little on the expensive side so I just get one or two per a month to add to what we need. I need about 3 more hand towels, 5 more bath towels, and a lot more wash cloths! haha After that I passed the candle isle and thought I would just price candles, well there was some really really nice ones on clearance, and I came home with 7. Five Hazelnut scented ones-three small, and two large. And 2 two large multi-scented layered candles. the layered ones come in a vase shape glass. I put them on top of the toilet, which turned into redecorating above the toilet! haha Adding picture frames to finish the look. But, upon further thought, I think I will go back soon and buy two more of the layered candles, for the bedroom. They smell great, and I am loving the look. I would also like a glass mouthwash decanter to make to finish a more sophisticated look in the bathroom. So not much else to "finish" it up. Well, except maybe a shower curtain! haha You can see the finished look in the photo. Oh and yes we need to retouch up the paint, my little siblings were the ones to paint the bathroom, and when they went to do the touch ups from what they missed they grabbed the wrong bucket of paint, one slightly different in color, to do touch ups with. So now we need to touch up their touch ups with the correct color! haha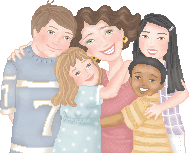 It's been nice having Amber home since she graduated college. She made us, Loudine, Bennette, and Belle lunch today. And then we watched a movie on adoption, which featured Dixie who is the care taker, of God's Littlest Angel's orphanage in Haiti. Which is the orphanage my sister Krystal was adopted from. It was about how she expedited 80 adoptions directly after the earthquake, which was a double fold blessing for the children of Haiti. It got the children already in the process of adoption out of the toxic environment that Haiti was in at the time (dust, more aftershocks, etc), along with opening up 80 more spaces for other orphans that really needed a place to go as well! I really wish Vince and I had the money to adopt from Haiti. But, I just can't see when we would ever have the amount that is needed to adopt from there. This world can be so corrupt! It will be so wonderful when the day comes that orphanages will no longer be needed, because we will no longer have orphans. And people can live how God intended them to, being raised in clean, healthy, spiritual and upbuilding families. For now, I can only imagine much of what God sees rips at his heart daily.
Kathy and Vincent came to the house for a few minutes, and chatted with Amber. Amber gave Kathy a gift for taking her around NYC earlier in the spring this year while she went to visit colleges. Then we went and helped them get new cell phones. After that we went out to dinner, and Lela fed the fish there. Meanwhile Belle decided to be the comedian and balance watermelon on her head! haha We're supposed to have company tomorrow. I guess we will see, I need to make some food for that, but I don't know. I want to at least make some deviled eggs. Every one is supposed to bring a dish though. I've just been so busy, trying to find time to make something!
And now I think I'm getting sick, my throat is swollen and hurts, and I have a little post nasal drip. UHG!
Tomorrow the internet repairman is supposed to come back out and try to fix the dish again, he cancelled today! UHG!