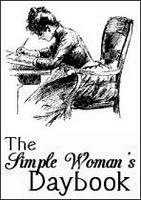 Outside my window...
heat, heat, and more heat.
I am thinking...
I am so tired!
I am thankful for...
being able to live in the country, my life long dream.
I am remembering...
how much stuff I need to go through in the barn.
I am hoping...
to have a healthy happy baby.
I am creating...
hopefully a fruitful garden.
On my mind...
getting all the information I need pulled together.
Noticing that...
time is flying by!
From the kitchen...
Chicken fried steak, and mashed taters.
One of my favorite things...
Vintage embroidery patterns.
What I am reading...
Farm Wives canning book.
Picture for thought I am sharing...
7 Months pregnant with Lela, wish I could get back to that weight again!