I don't know why it takes me so long to get back here. Any how, I'm back, and maybe I will start remembering to come here again. lol
A few weeks ago on March 3rd I fell and bruised a kidney, I was in the hospital for 4 days from that, and pretty much almost been bedridden since. I was doing better for about a week, and now I'm back to almost bedridden again.
The good news is I have lost a lot of weight. So far it's 54 pounds! So I'm pretty proud of that. I have lost 5 dress sizes as well! Here's a new pic this year, from our Anniversary.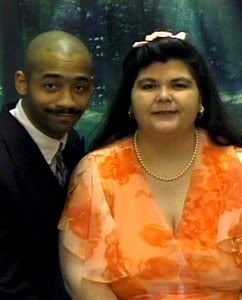 This is last years.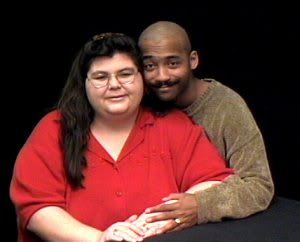 I've found some really good new recipes by Joanna M. Lund. So my time in bed I've been reading and reading her cookbooks and newsletters. They are great. I ordered a bunch with my part of the income tax return. So I have plenty of reading material. In fact I have about 5 years of newsletters (monthly with 30 recipes each, plus several articles), plus about 10 books to read. lol Each newsletter takes me about 30 minutes to read. So I still have plenty to read. lol
And I've gotten every thing watched on my tivo as well. lol So it's not such a bad stay in bed. I will just be glad when the pain goes away. At least when I am in bed I don't hurt. At first I hurt badly no matter what, and I was constantly throwing up from the pain. Now it's just when I get out of bed.
Any way we will be going on vacation soon, to see my parents and visit Silver Dollar City. Can't wait for pics from there. Although most of them of me will probably look kind of sloppy since I've only bought one new thing since losing the weight and that was the dress I got my anniversary pic taken in. Maybe I can get at least one more outfit before vacation for a pic there. I want to get one of those old time tin types taken of Vince and I. And then one of the whole family together. I think that will be fun.
Well, I hope I make it back to my blog tomorrow. lol Till next time! :)