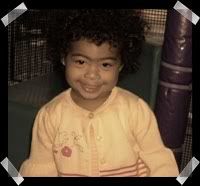 Lela turned two today! I can't believe it's been two years!
It rained most the day, but we wanted to take her to play. So we took her to Mc Donald's play land. We've only taken her there one other time. She had a great time though. And we got some cute pictures taken.
She ate a chicken nugget, and loved the sliced apples.
She also got a really cute Ronald Mc Donald in a airplane toy for children under 3. she really liked it and I was surprised how cute it was.
h a ice cream cone, only the cone though.

She likes cake cones, but not the ice cream. So she was a pretty happy camper.
I think we are going to start taking her there once a week. However, we need to find one with less undesirables lurking around. So we'll have to go visiting around some of the others ones around here.
I think I'll start taking my embroidery to work on while she runs her heart out!