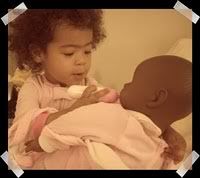 A couple of weeks ago, I seen on another blog, some one had the scotch tape look on their photos. I loved it. So I emailed her, she let me know it was a frame in PSP. But, a newer PSP then what I own. Well, my great girlfriend Chari has it, and was able to send me the frame, to put in my old PSP folder. And it worked, YEAH! That saves me over one hundred dollars. haha I love it! I will still need to invest in the new PSP I am thinking, cause all the new tutorials out on the net are for the new PSP, and it really seems to be able to do a lot of neat things with photos.
So needless to say you will be seeing many more pictures of Lela. Here's a few more with her doll.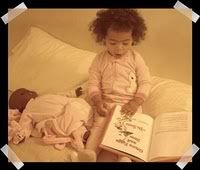 She even reads to it. Of course it has to be her favorite book, Green Eggs and Ham, AKA SAM!
One of my favorite things she says now, every night when I turn out the lights is, Oh MAN! The lights out!
I have gotten more of my recipe blog finished. Woo whoo! My goal is to get at least two pages of it a day done. So it may take a while. There's a lot of pages.
I finally got one of the pillow cases done. And am now working on the other one. I am pretty sure I will add chickens to them. So that may add another day or two before I have them all done. But, I'm sure it won't be too much longer.
Then I need to work on a set for my inlaws.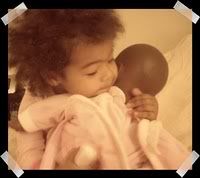 I also really am interested in making my own pin cushions, but I need to find wool, as it keeps needles from getting rusty. So I'm on the look out for that now too. I seen the cutest pattern online. So we'll see.
I've found a new radio show I just love! Prairie Home Companion. I may have to link to it on my blog. As the name suggest it goes so well with my life style. I don't know how I missed it all this time. It's a really funny radio variety show. I'm enjoying it immensely.