Lela for the first time today put her OWN shoes on herself! haha She put them on the wrong feet, but it was still cute! I wish I would of thought to take a photo!
She's usually going around wearing my shoes, or Vince's shoes. haha Today was the first time she decided to wear her own! haha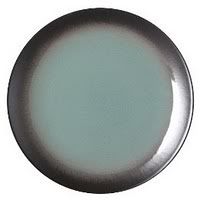 We also ended up buying some new plates. With my diabetes and neuropathy I sometimes drop things, and I've broken too many plates. We were down to only two left.
So we went to Target and ended up with plates like in the picture, but I think they are more green, instead of teal-blue, in real life. I really love them. So I'm pretty happy with them.
However, it was funny, Sunday after meeting, we were going out to eat with my inlaws. And we told them, we had to stop by Target real fast and pick up some plates. And we would meet up with them after. They all looked surprised and at least three of them asked, don't you use paper plates? Boy, amazing how many people don't use real plates any more! I can't imagine eating every meal off a paper plate. I love using REAL plates, and dishes. And I HAVE to drink out of real glass!
I got a little more of my pillow cases done. Yeah!