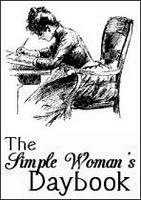 Outside my window...
trees, lots and lots of trees!
I am thinking...
gardens, babies, canning, stitching.
I am thankful for...
yummy fruits, and veggies.
I am remembering...
family members no longer with us, as of yesterday.
I am hoping...
Belle is well enough to get to meeting tonight, with out screaming in pain the whole time.
I am creating...
a beautiful garden!
On my mind...
new theocratic goals.
Noticing that...
life is good.
From the kitchen...
dandelion pancakes.
One of my favorite things...
the prairie!
What I am reading...
Blue Book guide to preserving
One of my favorite things...
bunnies
Picture for thought I am sharing...