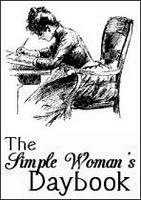 Outside my window...
baby plants, soaking in some sun.
I am thinking...
getting this apartment clean!
I am thankful for...
friends and family.
I am remembering...
how much fun raising chickens were.
I am hoping...
that I really like the new MVPS program that is coming to Kansas this year.
I am creating...
hopefully two wonderful young ladies.
On my mind...
the circuit assembly this weekend.
Noticing that...
there's a lot to clean up around here!
From the kitchen...
baked chicken.
One of my favorite things...
roasted spaghetti squash.
What I am reading...
Writings to Young Women From Laura Ingalls Wilder.
Picture for thought I am sharing...