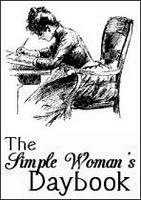 Outside my window. . .
I'm pretty sure it's summer time!
I am hearing...
Squealing little girls.
I am thinking. . .
How happy it is to have good friends.
I am thankful for. . .
Christ ransom sacrifice...truly awe inspiring.
I am remembering. . .
the wonderful people God has brought into my life.
I am hoping. . .
to see old friends at the Memorial.
I am creating. . .
lots of milk, haha.
On my mind. . .
what a wonderful life it is serving the true God.
Noticing that. . .
The house is almost company ready!
From the kitchen. . .
pulled chicken, kale, and baked beans.
One of my favorite things. . .
true friends.
A few plans for the rest of the week. . .
MEMORIAL! That's the most important plan I can have. However, we also plan on spending Saturday enjoying the nature that Jehovah has created at the park with the family.
What I am reading. . .
message boards, and email.
Picture for thought I am sharing. . .