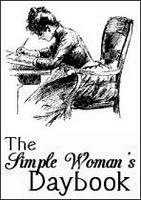 Outside my window. . .
beautiful clouds-the most interesting I have seen in a long time-one looks like a upside down volcano, complete with red (the sunset) lava swirling down! Another looks like a banana split, two perfect scoops of ice cream!
I am hearing...
beautiful country silence.
I am thinking. . .
how glad I am that I got the car all fresh and cleaned.
I am thankful for. . .
My step brother paid for us to go to the Renascence Fair this year.
I am remembering. . .
crafts I've made in the past.
I am hoping. . .
to make some costumes for the girls before the next fair.
I am creating. . .
a dress. However, not too sure I like the fabric.
On my mind. . .
dinner tomorrow.
Noticing that. . .
the laundry finally is caught up!
From the kitchen. . .
spaghetti and garlic bread.
One of my favorite things. . .
the outdoors!
A few plans for the rest of the week. . .
Sewing, grocery shopping with my mom, maybe going to the fro-yo shop.
What I am reading. . .
message boards.
Picture for thought I am sharing. . .