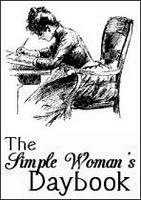 Outside my window. . .
cold wind.
I am thinking. . .
What a great nurser RJ is.
I am thankful for. . .
finally getting the house cleaned up after months of not being able to do much.
I am remembering. . .
fun times had with family and friends.
I am hoping. . .
the house gets all cleaned before sisters start arriving at my door!
I am creating. . .
thinking about creating some nursing tops.
On my mind. . .
Vince taking a vacation?
Noticing that. . .
there's a lot of laundry to get caught up on.
From the kitchen. . .
home made hamburgers and french fries.
One of my favorite things. . .
friends.
What I am reading. . .
nothing much for now.
Picture for thought I am sharing. . .