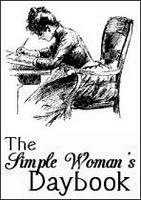 Outside my window...
stars....country air and skies.
I am thinking...
of how many things I would like to get done around here.
I am thankful for...
the pregnancy going so well thus far and making it to full term at least.
I am remembering...
how fun the first few weeks of a new baby are.
I am hoping...
the baby is healthy and strong when he's born.
I am creating...
a healthy baby boy, hopefully.
On my mind...
how I can get next years garden to be better.
Noticing that...
I have a lot of laundry to fold.
From the kitchen...
home made burgers and fries.
One of my favorite things...
collard greens, had some great ones yesterday!
What I am reading...
blogs, but may buy 7 laws to breastfeeding soon.
Picture for thought I am sharing...
Dorian (former host of Soul Train) and I on DLife, while I was pregnant with Lela. I thought I had posted this before, but couldn't find it in any of my archives, so thought I better share it before it gets lost.