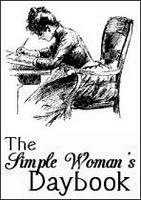 Outside my window. . .
freezing cold.
I am hearing...
my sweet babies sleeping.
I am thinking. . .
all the sewing I'm doing.
I am thankful for. . .
a toasty apartment.
I am remembering. . .
how tiny my baby girls are and were.
I am hoping. . .
that I get a lot done on the coat tomorrow!
I am creating. . .
lots of turtle neck mother covers, and a coat.
On my mind. . .
circuit assembly coming up.
Noticing that. . .
I am really tired.
From the kitchen. . .
roasted chicken, and mac and cheese.
One of my favorite things. . .
hot soup.
A few plans for the rest of the week. . .
getting a lot more sewing done, going to LLL meeting and going to the CA.
What I am reading. . .
message boards.
Picture for thought I am sharing. . .

Belle getting in cat bed