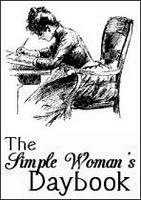 Outside my window. . .
dreary and rainy.
I am thinking. . .
dinner was really good tonight.
I am thankful for. . .
all my friends, and especially the support I get at LLL meetings.
I am remembering. . .
my sister in law and brother and can't wait for them to have their first baby.
I am hoping. . .
that Vince gets a better paying job some day soon.
I am creating. . .
another nursing night gown, I also want to make some turtle necks too soon though.
On my mind. . .
cleaning my sewing area, so I can get to work.
Noticing that. . .
my energy is back up to almost normal. This next year will be fun!
From the kitchen. . .
home made potato soup. mmmm it was delicious! I need to take a photo.
One of my favorite things. . .
my cutco knives. boy did they make, making dinner so much easier and faster. LOVE them!
What I am reading. . .
LLL message boards.
Picture for thought I am sharing. . .
Little Lela-Newburge Assembly Hall