We finally found some training pants that will fit Lela! YEAH! So we began potty training today. She almost made it twice. So it will be a slow go. We'll keep trying. She was excited about it though. She about never wanted off the potty. And really didn't want me to pull her pants up. lol She just wanted to sit on the potty. She did that for 2 hours! lol haha Then she tried to teach her frog Lilly to potty too. hahaha
I finally finished my pillow cases for the swap. So now I'm working on my sisters cases. Then it will be my step grandmothers towels. And hopefully two friends some cases. Then maybe some for us! And hopefully another swap. I'm excited to see what I will get in this swap. I did decide to add the chickens to the pillow cases. I thought they came out pretty cute. I'll have to add pictures later.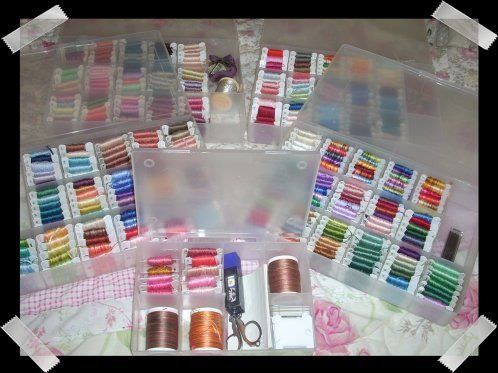 Earlier this week on a message board we were discussing embroidery floss thread, and how to store it. And I took a picture of mine, so I thought I would post it here as well. Lela and I both just love looking at it. I've always loved to look at all the colors of embroidery floss for some reason. I can spend hours in the floss isle at the store. haha
I also am part of a book share, and received a book about Kansas Pioneer Women, it's a collection of memoirs. It's really pretty interesting. I've gotten about 2 1/2 chapters read. I'm hoping I can hurry and finish it and send it off to the next person.