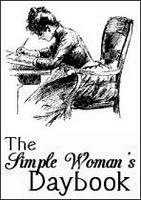 Outside my window. . .
blustery wind.
I am hearing...
children playing.
I am thinking. . .
What a awesome, brave, and over whelming sacrifice Jesus made for us.
I am thankful for. . .
Jehovah and Jesus loving mercy for us.
I am remembering. . .
Jesus' torture his last hours as a man.
I am hoping. . .
that the children will feel Jehovah and Jesus love for them tonight.
I am creating. . .
a new skirt-yup finished a new skirt just minutes before memorial, haha I really love it, it's a nice sweater knit very warm.
On my mind. . .
teaching my children about Jehovah and Jesus enough they will want to dedicate their lives to God, and truly love him.
Noticing that. . .
I need to clean this house!
From the kitchen. . .
sandwiches.
One of my favorite things. . .
knowledge of the truth, and God's purpose for our future.
A few plans for the rest of the week. . .
Cleaning the house, collecting more bento, an healthy food things.
What I am reading. . .
My Book of Bible Stories.
Picture for thought I am sharing. . .
Vince and RJ at Disney on Ice.