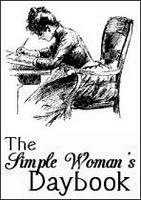 Outside my window. . .
Thunder and rain.
I am hearing...
crying.
I am thinking. . .
it's going to be a lot of responsibility teaching Lela.
I am thankful for. . .
Finding my MVP Calvert email this morning!
I am remembering. . .
a lot of fabric I need to get cut out and made into somethings.
I am hoping. . .
to see Lela tomorrow!!
I am creating. . .
jam, lots and lots of jam.
On my mind. . .
homeschooling Lela.
Noticing that. . .
I need to get caught up on laundry.
From the kitchen. . .
it's a mystery to me too.
One of my favorite things. . .
my babies.
A few plans for the rest of the week. . .
Seeing Lela, going to the zoo, going to the park, and maybe going to Carriage Crossing, maybe Exploration Place too...
What I am reading. . .
MVP website.
Picture for thought I am sharing. . .
RJ wearing a outfit and hat, Jenene, a really nice friend sent him.