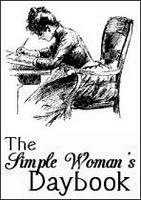 Outside my window...
sun, lots and lots of sun.
I am thinking...
I'll be glad when RJ gets here and I get my energy back again.
I am thankful for...
A healthy pregnancy so far.
I am remembering...
what a fun toddler Belle.
I am hoping...
that I feel better real soon after having RJ.
I am creating...
not much! lol Need to be working on more night gowns.
On my mind...
getting energy back, and not feeling so tired all the time.
Noticing that...
my garden was pretty much a flop this year.
From the kitchen...
bacon sandwich.
One of my favorite things...
creating.
What I am reading...
face book is about it today.
Picture for thought I am sharing...